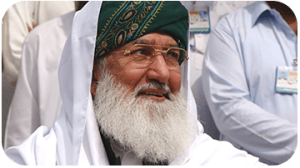 1st January 1938 – 3rd February 2017
Darbar Aaliya Nerian Sharif, AJK
Naqshbandiyya Siddiqui Mujaddidi
Founder of Mohiuddin Trust, Chairman Noor TV
Born in Azad Kashmir, Shaykh ul Aalam Khwaja Mohammad Alauddin Siddiqui, may Allah sanctify his secret, was raised at the noble feet of the ghawth of his era, his father and Shaykh, Khwaja Ghulam Mohiuddin Ghaznavi, may Allah's Mercy be upon them both. From a young age, Shaykh ul Aalam had always viewed himself first and foremost as a mureed (spiritual disciple) of his father, adorning the garment of humility and spending his early years dedicated to the way of khidmat (service). This khidmat consisted largely of serving the many visitors who flocked to Darbar Nerian Sharif daily, hoping to meet Khwaja Ghulam Mohiuddin Ghaznavi and benefit from his spiritual counsel and compassion.
In this way, Shaykh ul Aalam grew up in a blessed environment, leading him to yearn for the pursuit of enlightened knowledge. Soon he would attain the esteemed rank as an 'Aalim (scholar), yet this further increased the Shaykh in humility, sincerity and compassion, and his wisdom was sought by all. In his words and ways, the Shaykh's deep admiration of traditional scholars and Sufiya is evident, including that of Shah Baha uddin Naqshband, Imam al Ghazali, Mawlana Jalal uddin Rumi, Shah Wali ullah Muhaddith Dehlvi, Imam Suyuti, Imam Abu Hanifa; the list is infinite. May Allah's Mercy be upon them all.
Today, the world is witness to the fact that Shaykh ul Aalam has carried the blessed legacy of his own Shaykh throughout the world. Whether on Noor TV or in another groundbreaking project beneath the umbrella of Mohiuddin Trust, the Shaykh continues to work tirelessly, wherever he may be, to provide educational or humanitarian solutions where most needed. It is truly no surprise that he is one of the world's leading and most respected scholars, for he is a true representative of the Way of Islam and an incredibly beautiful rare embodiment of the sunnah of Sayyidina RasulAllah, may Allah's infinite peace and blessings be upon him. 
One who wishes to witness the reality of the following hadith is invited to sit in the circle of Shaykh ul Aalam, Khwaja Mohammad Alauddin Siddiqui, may Allah sanctify his secret: 
The Messenger of Allah, may the peace and blessings of Allah be upon him, said,
"The best of you are those who, when they are seen, Allah is remembered." [Sunan Ibn Majah]